Top Five THC Pre-Rolls of 2019
Posted by Custom Cones USA on Dec 1st 2019
As the year comes to a close, our team here at Custom Cones USA has decided to pick the top five THC pre rolls that have surpassed the competition. We took careful consideration in choosing the top ones, with flower/paper quality, and packaging being the top features we look at. These pre rolls have taken innovation into a new level and given customers the best experience when it comes to smoothly smoking. They have also provided the market with some of the most interesting strains, that deliver the potency expected on a pre roll.
Be sure to also check out our link on the Top CBD Pre Rolls of 2019!
Now let's get into the list!
5. Dime Bag - Strawberry Cough - A sativa dominant strain, Dime Bag knocked it out of the park with their 1 gram pre roll that has the sweet strawberry aroma. It is perfect for morning to afternoon smokes, as it leaves you with an uplifting, euphoric high that certainly gets rid of all tiredness. There are thick smokes that come out of the Dime Bag pre roll, that makes most smokers have a slight cough, though it's 100% worth it as you're left smiling. In times of extreme stress, this Dime Bag cone does the job of getting rid of the chronic anxiety. You can also go on adventurous hikes or any other outdoor experience with this pre roll. We recommend it for any camp trip with large groups of friends. Dime Bag's joint tube labeling is also on point, as it's sticker tape background does make it feel like a street made product, while the sweet fruity pre roll inside make it a mainstream staple.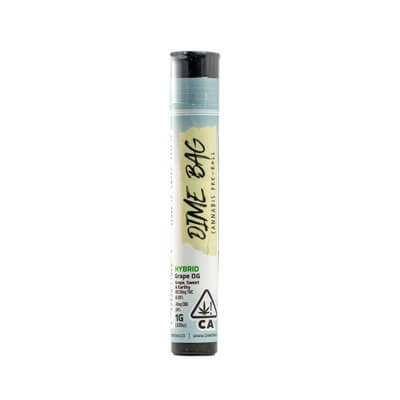 Another Favorite in the Grape OG Hybrid
4. Shango - A Dub - Known from it's blend of Alien Dawg and Sour Double, this Indica dominant pre roll by Shango is a powerhouse. It's orange and brown hairs can be seen through the rolls, which shows how well Shango has chosen their strains. It consistently reaches above 27% THC in potency and leaves smokers with a burst of creativity and relaxation. Artists can look forward to having a smoke and having new ideas flow into their heads. It's advisable that you light this pre roll during the night time, as work related tasks are less likely be completed. If you are having problems with your appetite, this also solves the problem, as you are certainly going to be having the munchies. Any patients dealing with stress, pain, and depression have found their perfect .6gram pre roll! Shango continues to show that their expansion into the pre roll industry will provide the market with potent cones.

3. Artizen - Grape Ape - From Washington, Artizen has consistently provided the market with sweet aromatic flavors and their Grape Ape is their top one. One whiff of the pre roll, and you can smell the sweet grape blossoming into the air. An Indica dominant, this usually ends in a nap for all users, so it's perfect for those sleepless nights. A mix of the Mendocino Purps, Afgani, and Skunk #1 make the Grape Ape have it's signature auburn hair and it's purple dense buds. The purple can be seen at first glance of the pre roll, which aesthetically looks beautiful. The packaging done on the joint tube (child resistant) is likewise pleasing to see, and is an example of the strong brand Artizen has created (color matching their strains). I would advise checking out Artizen's other strains like the Allen Wrench and Purple Tangie, as their flavor will soon be one you recognize easily.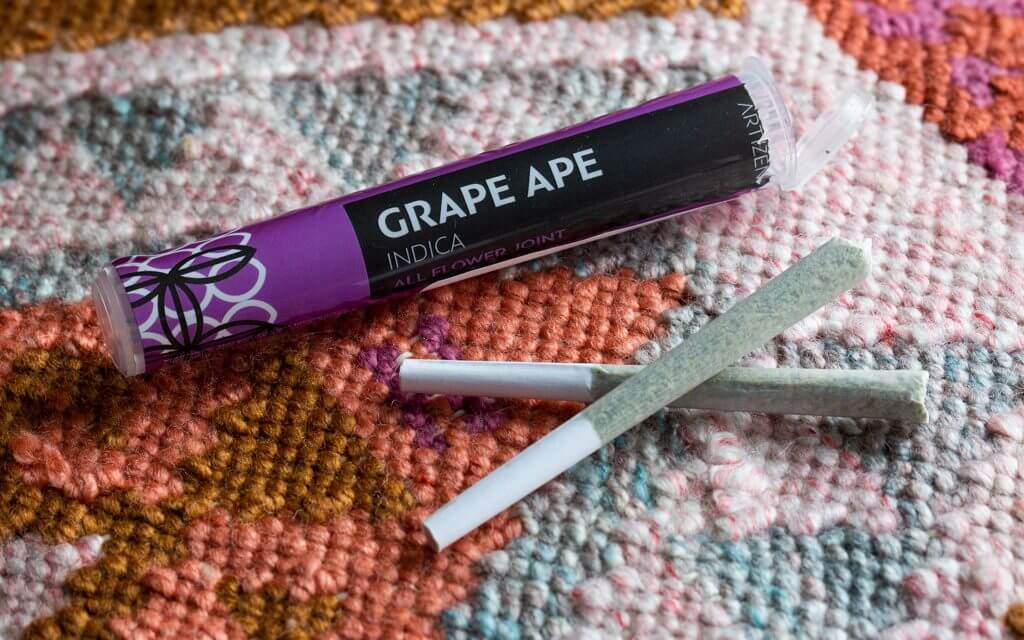 2. Craft 710 Sesh Infused - Craft went all out when they made this pre roll with their signature PHO wax that just make the flavor jump out once you spark it. Their unique pre rolls offer potency like none other and they have managed to infuse the pre roll, while still making it burn evenly each time. With each joint coming at .75gram, it can be shared with a person, or you can take it all to the face leaving you with a combo of flavors. Total THC potency can reach above 28% and is truly an innovative pre roll in the space. Craft 710 joints can also be found in different flavors, which gives them a true opportunity to be the leaders in the wax infused pre rolled cones. The Cornbread mixed with the Chocolope is also one that can considered a pre roll that can make any user a life-long fan.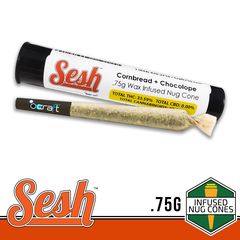 Honorable Mentions: Caliva Dogwalkers - Sticky and light green, this Caliva pre roll is perfect for the on the go joint with it's short frame. Caliva has been able to make 4 pack that comes out to 1.2gram, making each joint .3 grams. Appropriately named, this multi pack option is perfect for light smokers who can never finish the bigger king sized joints. As the innovations in the packaging space continue to grow, the smaller sized joints will have a larger presence in the industry since they are the easiest to pack. They also offer an opportunity for brands to supply the 3.5 grams (an eighth) while still being able to offer 5-7 joints at once. Caliva's Dogwalkers have started a trend that will start a battle to see who can create the best smaller sized joint, along with the most affordable and sleekest packaging design available on the market. Here would be Caliva's updated packaging!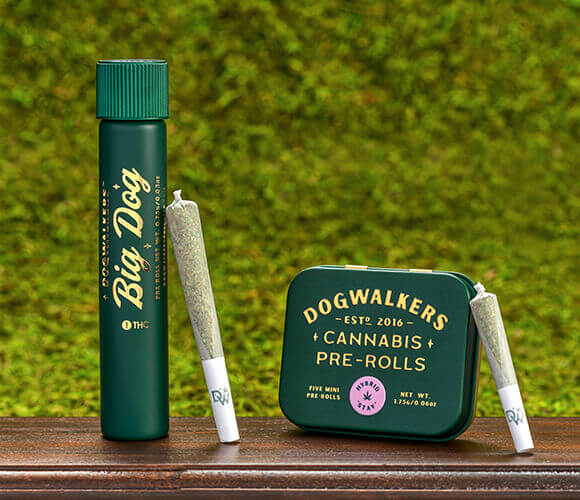 Grizzly Peak Farms Sativa Bone - Grizzly Peak's sativa dominant pre roll has top quality indoor flower in it and come in multi-packs. It's citrus flavors are distinct and a focus high is followed for most users. I would also recommend it as a great pain reliever as well, especially for pesty headaches. The indoor grown flower inside each Grizzly Peak's pre rolls make the customers confident that they will at least be receiving solid flower for their money. One thing to note is that Grizzly Peak Farm's packaging with their multi pack is incredibly beautiful to see in dispensaries, and their overall marketing on their Sativa, Hybrid, and Indica rolls have convinced many users to stay with their cones. It will be interesting to see what they do with custom cigarette style boxes!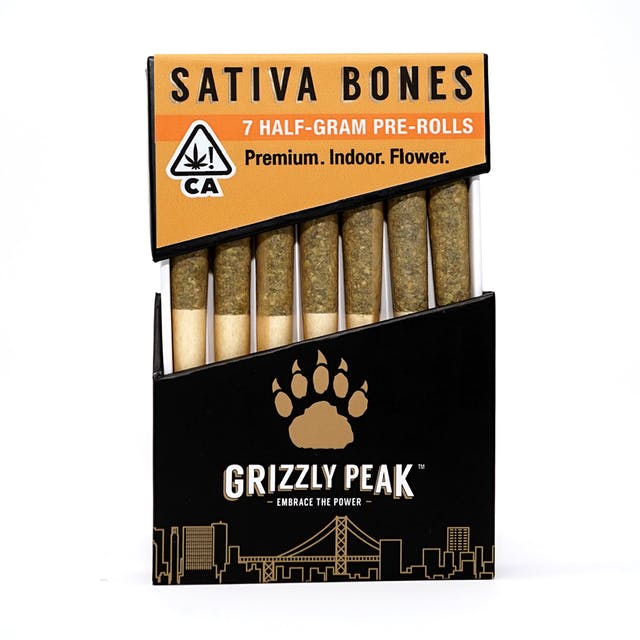 Phat Panda Golden Pineapple - With extremely pungent and earthy smells, with THC levels consistently above 25%, making it a nice heavy hitter for a personal joint. Phat Panda's pre roll delivers uplifting highs and a burst of energy making it a must have for any day time smoking sessions. Users are then given euphoric feelings as they more likely than not will be smiling heavy throughout the day. Phat Panda is a leading provider mostly because of their high volume and high quality buds. As they expand in a meaningful way into the pre roll industry, it will be interesting if they can take a spot in the Top 5 in the upcoming year!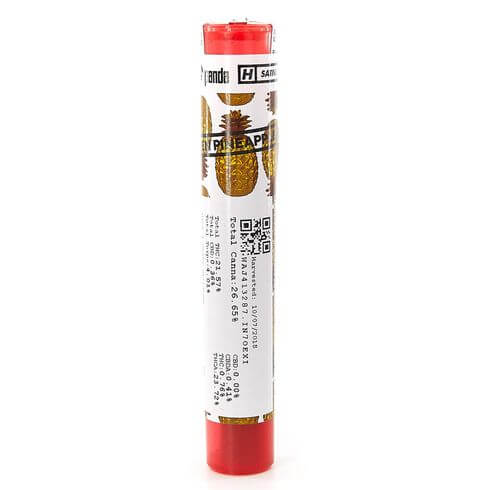 1. Kaviar - Hybrid AK 47 - Made with a glass tip, this pre roll makes smokers have food cravings and be completely stress free. Kaviar cones are extremely piney and gives a distinct sweet aftertaste. Smokers then begin to have heavy eyes, as it then induces users to fall asleep and have a relaxing body highs. Veterans have expressed that this pre roll provides the heavy high to get past insomnia. With the glass piece in the end, you are able to take heavy hits and it's just overall a much better smoking experience compared to the regular filters (custom made). Kaviar's packaging also stands above the rest, with it's sleek design making it feel like a luxury item. Lastly, the flower instead these pre rolled cones are able to hold up to the price point it demands. The Hybrid AK47 is especially their best, as you can see the milky smoke come from the glass filters. If you haven't tried one at your local dispensary, you should!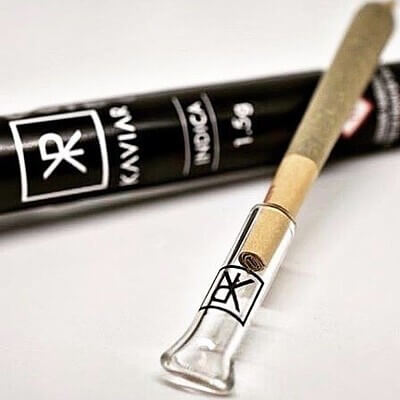 This caps off 2019's Top Five THC Pre-Rolls! If any readers have any suggestions for their favorite pre rolls, be sure to leave a comment on our contact form. We'll look into the pre roll and potentially add it to the discussion next year! We look forward to adding new ways to innovate the market and award those who have done an amazing job!
Happy Holidays
-
By the Custom Cones USA Team!