How to Triple Sales with Pre-Roll Joint Packs
Posted by Custom Cones USA on Jun 14th 2021
The single pre-roll "doob tube" option has proven to the market that it is here to stay, but many pre-roll companies have realized that there is also strength in numbers with stylish and cost-effective  pre-roll joint packs. These multipack products are quickly gaining market share, as customers decide to purchase their marijuana in bulk, rather than going back to the store again and again. This way the customer saves money, while the growers and brands are increasing sales by getting rid of their product faster. With this guide, we want to show you everything you need to consider to correctly choose the right option and set yourself up to triple your growth!
Step 1: Choose the pre-roll joint pack packaging that fits your brand.
With the growth of joint pack lines, there also has been an increase of the number of options you can get. There are now options like custom tins, paper boxes, plastic cases, and wide pre-roll plastic and glass tubes. When the deciding which option to choose, the question that should be asked is, how do you want to position your brand? This makes it vital to select the correct option for your brand. Here are some recommended options for some tiers we have identified:
Luxury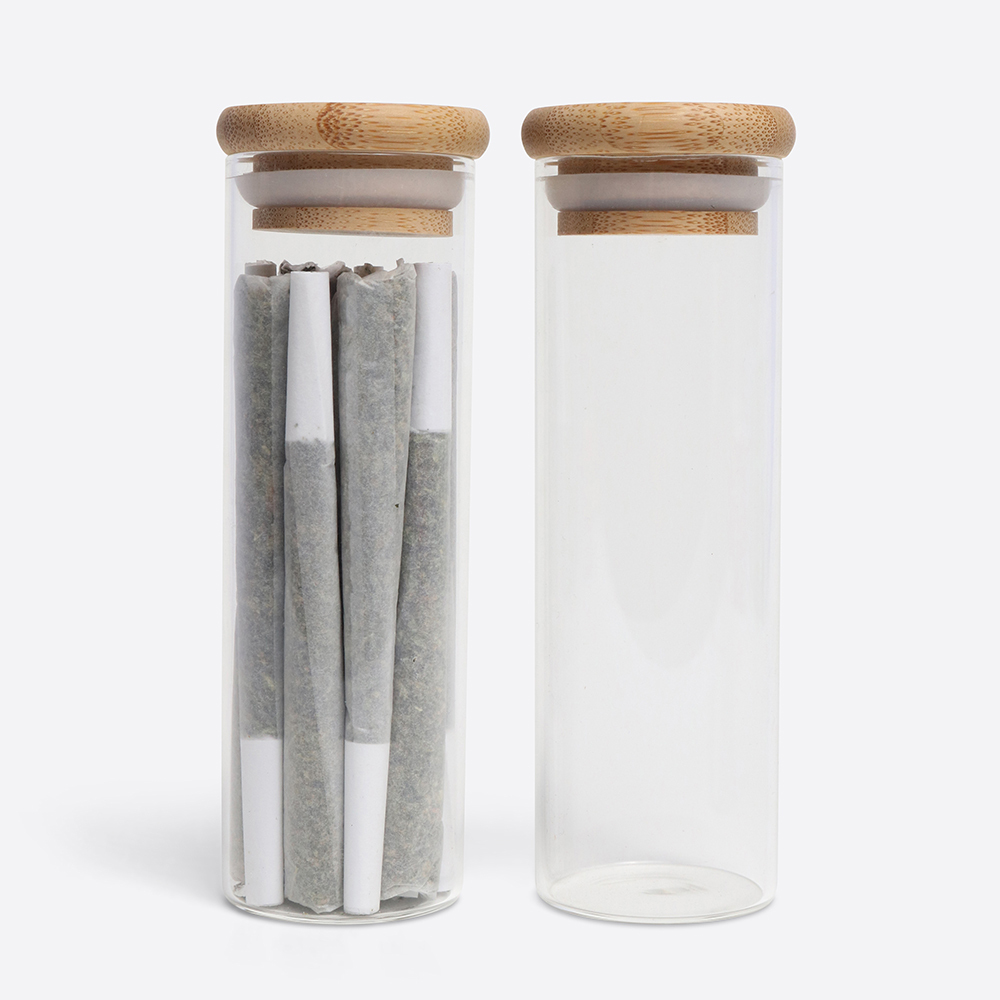 The glass tubes are an amazing luxury option for your pre-rolls, as it helps distinguish you compared to the light plastic tube. Plus, just about any glass tube can be used to house two 5-gram pre-roll with the wide-mouth glass tubes supporting three to five half-gram joints.
You can choose to get the tubes in clear, which allows you to showcase the pre-roll. If you have added any custom touches like custom filter tips and papers, then clear is the way to go. If your state also does not allow clear, you can get them opaque with a smooth finish that elevates the presentation and gives it an air of mystery.
The glass tubes also have versatility. For example, you can change the cap design with options like the cork top, ridged and screw tops. They also come in different colors, which can range from bamboo to metallic (non-CR) designs, offering a way to further position your brand properly.
The joint pack tins likewise are a premium option, while still giving a classic look. You can get them in matte metallic colors that are also child resistant. They come in several sizes to accommodate the common pre-roll sizes, but they are mostly popular with Dogwalker mini joints because slide easily in and out of your pocket.
The tins also come with a variety of child-resistant closures. Some are simpler, such as the Retroflip and Slider tins, which have squeeze-to-open mechanism. Some are more secure, such as the  Crativ cases and the Two-Button Tin Cases. The bottom line is it comes to your brand and which package type meets your needs.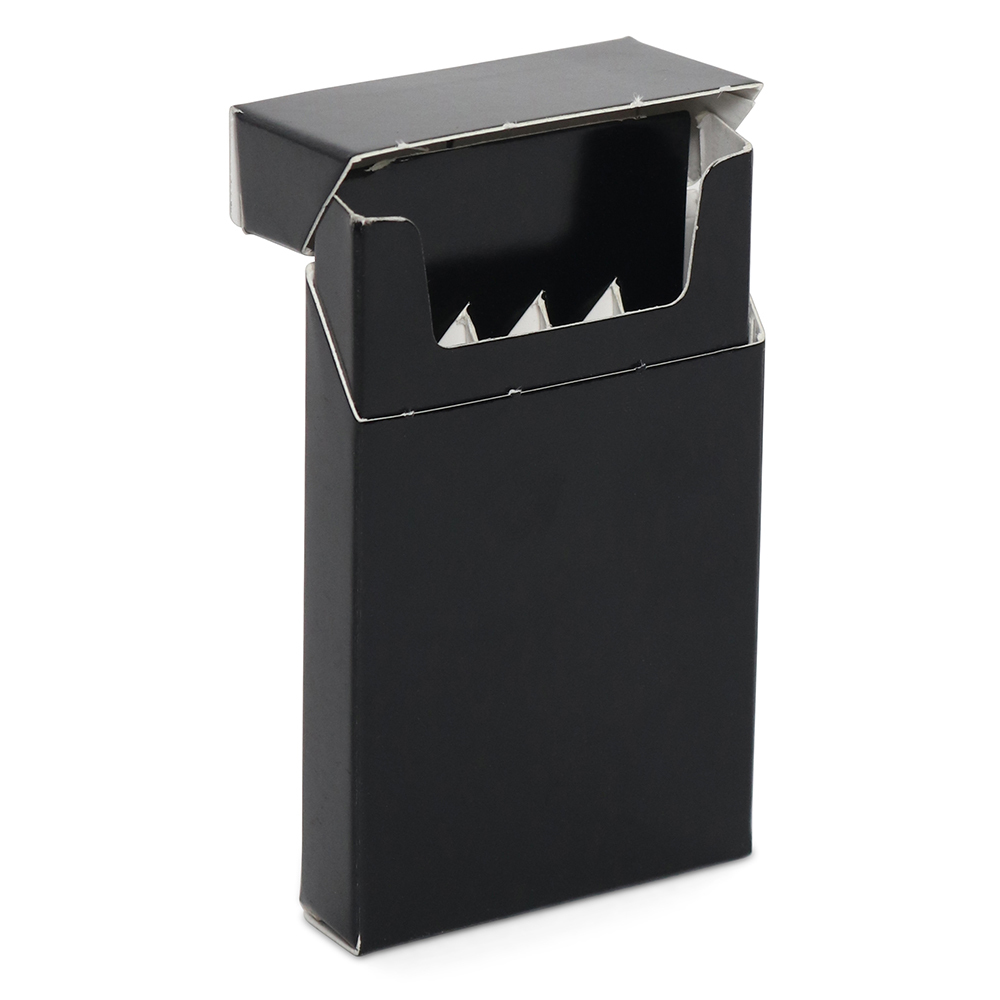 Standard
The child resistant (CR) paper and plastic boxes are the most used, and for good reason: they have the lowest minimum quantities for customization. They also offer sturdy protection for the pre-roll and, like the tins, can easily fit into the pocket of the customer.
The Push Pack, for example, is an ideal package for those that are looking to make pre-roll joint packs in sturdy, durable, eco-friendly packaging. You can completely customize the printing on the push pack to reflect your branding; this includes custom printing on the
sliders! The capacity ranges from five to seven standard-sized pre-rolls, but we can alter the dimensions to suit all your needs.
The paper cigarette-style box is a great option for those looking for custom branded packaging. We have a wide variety of standard sizes for those looking to cut costs, but we can work with you to create any size you need!
The cigarette-style boxes can be completely customized to allow your branding to truly shine through. When making variety packs, clients often work strain indicators into their design to act as a key for customers. When the internal and external designs play off each other, the branding possibilities are endless.
Affordable
These are the packaging types that will give you the most bang for your buck as you expand from single pre-rolls into the pre-roll joint pack market. These products save you money by being cheaper overall. They leverage cheap plastics and Mylar, so naturally we are talking about your standard wide plastic tubes and Mylar bags, holding lots and lots of pre-rolls. We have all seen this bargain-style packaging and we also know the message it communicates to customer. However, if that works with your style of pre-roll then it is a very viable option.
We carry two sizes of wide pre-roll tubes: "Wide," which fits up to 3 pre-rolls per tube and "Extra Wide," which fits up to 5 pre-rolls per tube. When you buy these in bulk, the discounts can really get your cost per unit down low, so they are the accessible option to launch your pre-roll joint pack line. It can also be a smart move to use these cheaper tubes but have a classy, branded label. This allows you to have an affordable packaging type while still boasting a classy brand.
What material should my packaging be made out of?
The material your packaging is made of can tell a customer as much about your brand as anything else. Regardless of what you say, customer can always see what you do in the choices you make that affect the product. It showcases the philosophy of the brand as much as any slogan. Many companies have put increased important on showing that they are eco-conscious and environmentally responsible. Here are also how each option lands on the environmental scale:
Sustainable – Glass Tubes, Tins

Eco-Friendly – Paper Boxes, Recycled Tubes

Non-Eco Friendly – Plastic Tubes, Mylar Bag, Plastic CR Box
Sustainable
When we say "sustainable," we mean most suppliers have reduced ecological footprints and negative environmental impacts. As the glass tubes and tins are already a premium option as stated above, the added benefit of them being the most sustainable gives it further marketing material to boost why a customer would choose you. Cannabis customers today are smarter and savvier than ever, and they are putting more importance on choosing the brands they feel are contributing to solving the environmental issues. This can give your brand an edge over the competition. The  reclaimed ocean plastic tubes from Sana Packaging are a great example of how an eco-driven mission can lead to sales and thought leadership in the marketplace.
Eco-Friendly and Non-Eco-Friendly
The eco-friendly options are more affordable to the fully sustainable options, but they do offer the benefit of not contributing to issues with the environment. While not as strong as a message as being fully sustainable, it certainly does help stand out in a market flooded with plastic and non-eco-friendly options. The non-eco-friendly options are the ones we all know. It's the first-generation plastic tubes that are single use and filling up our landfills. More and more, customers are recognizing the impact of these packages and leaning toward brands with packaging that eases their conscience.
Step 2: Analyze cost for each pre-roll joint pack option.
It must work for your brand, but it also has to work for your budget.
As you have now determined which options fit your brand best, now you can determine which option ultimately fits the budget you have for the project. Here would be where each option falls under the budget scale:
More expensive options
It's important to note that while the glass tubes, tins, and paper boxes are higher priced, they also generally sell for higher. We recommend putting blunts, infused pre-rolls, or glass/wood tipped pre-rolls inside these options, as it further cements the price point you want to sell these items at. The customers also will expect the packaging to stand out if they are paying higher for these unique options. Packaging experience plays a role in them remembering the brand, so they will come back and try again.
Less expensive options
The items on the lower end of the scale are recommend for anyone trying to the market to see if their pre-rolls can move. Generally, if you're putting lower quality material into your pre-rolls, this also fits the budget, as these pre-rolls will not have a high price point to retailers. Volume would be the most important of these lower end joints, as you can put a higher amount in plastic jars and Mylar bags at a low price point. As customers seek to save more and are price sensitive, these joints do have a place in the marketplace, and these packaging options make it possible to hit the needed price points.
Step 3: Choose the right customization option.
You tell me: which pre-roll pack would you want to buy? The plain jane with hardly any branding flash or the bright, vibrant package that shines in the light with embossed printing that raises to meet your fingertips? Package customization options are only limited by your imagination. If you can dream it up, then it can be executed—either by our designers or yours. You can get customization options, such as sticker labels, direct printing, and shrink sleeves.
While these customizations will add more to your cost per unit, you must think about the balance of cost v. the impact you want to have in the marketplace and on dispensary shelves. If you are going to go through with your pre-roll project, then it may as well stand out and say what you want.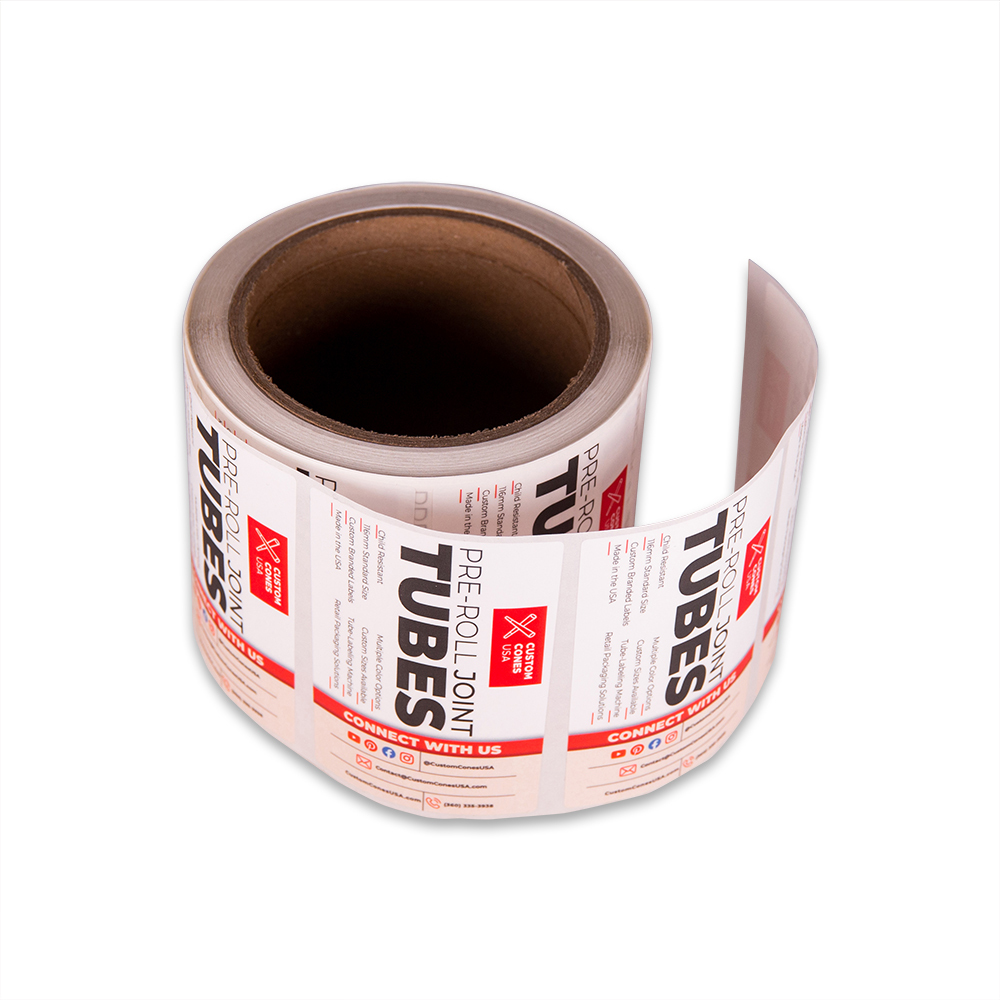 Sticker labels
Custom sticker labels represent the easiest first step you can take in branding your pre-roll joint pack and work with just about any packaging type. Our sticker labels work super well with tubes and were designed to replicate the slight taper in the pre-roll tube. The tapered tube label ensures that when the tube label is applied, all your branding will look straight and
even. When you look at the back where the edges of the label meet you will see that the edges of the labels meet perfectly. This, along with our ultra-strong adhesive, creates the perfect label for pre-roll joint tubes.
Direct printing
Direct printing put your logo or graphic design right on the package. It's great for tins, paper packages like the Cigarette Boxes, and plastic packages like the Push Pack. You can emblazon bright pattern with color printing, as well as use embossing and metallic foils to create unique textures and vibrant designs.
The direct printing on the pack also has the advantage that you do not need labor to place a sticker or sleeve onto the pack. This makes the packaging much cleaner, especially if you're using stickers that do not have the proper adhesive to stay on the tube for long periods of time. For states with high humidity, this is important to avoid.
Shrink Sleeves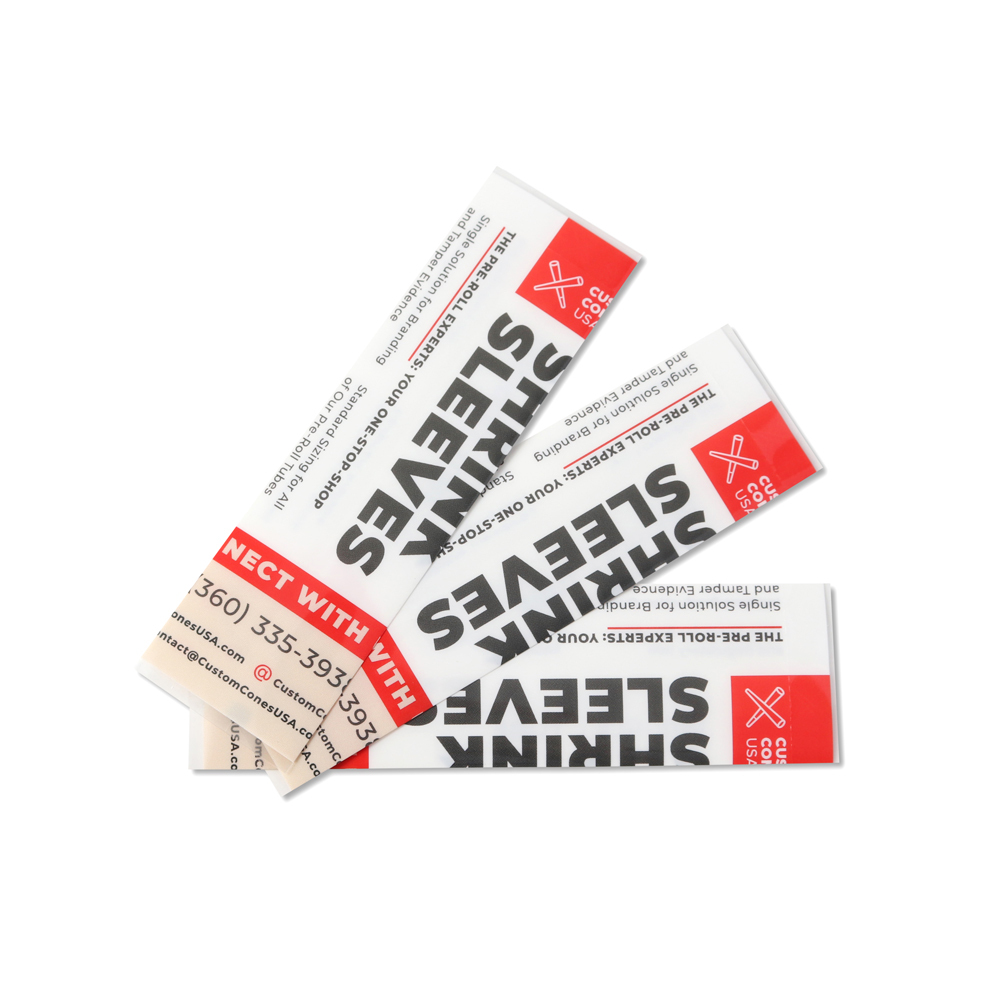 Shrink sleeves are an affordable and easy way to add full branding to your pre-roll tubes. Unlike custom labels, shrink sleeves provide a way to customize your tube, while also making the product tamper evident, decreasing labor costs. The sleeves also make your product look much more modern and stand out compared to having a regular label applied.
Most states require tamper-evident seals on pre-rolls. If yours does, shrink sleeves are a super easy and cheap to bottom and have a perforated tear top that, when applied to the tube, acts as the seal. You can now get your custom branding and tamper-evident steps done all in one shot.
The question you might be asking is: does all this added cost really make any difference? In the end, it is a business unique to each pre-roll brand. How should your brand be positioned? What materials can you afford? Which branding extras will attract customers? Remember it is all about the balance between cost and the impact you want your brand to make.
Step 4: Design your pre-roll joint pack.
Now that you can see your beautiful brand's pre-roll joint pack in your mind's eye, you must now figure out how you are going to bring it into reality. The first thing you must consider is your budget. You may find that this decision has already been made for you due to limited resources. In the past, branding and package design did not matter as much, so early brands could afford to treat it as an afterthought. These days, those that don't budget for package design will lose the game over time. If you are strapped for resources, you can go with a non-professional designer. You might get lucky. Our advice though is to invest in a professional designer in some way.
Non-professional designer
You can use some in-house talent. Perhaps, you or someone else in your organization has some budding artistic ability just waiting to be tapped. This can certainly save money, but it can bring a lot of frustration with it at the same time. Amateur or non-professional artists or graphic designers can take a long time to create work and can be less open to critical feedback. This can lead to stalls in the project down the road.
Professional designer
Pro designers are skilled at turning work around quickly, so they don't waste your time. You can get something created and then iterate swiftly to get to exactly what you need. They are also often skilled project managers who can keep their eyes on larger launch goals while meeting the near-term project needs. In general, they will allow you to be great at launching your pre-roll joint pack brand, because they are great at designing. You can focus on what you are good at instead of trying to be a great designer. Let's the pros do their work!
There has been tremendous growth in pre-roll joint packs, but what should you consider before expanding your product line?