2019 Thanksgiving Pre-Rolls - Give Thanks this Season!
Posted by Custom Cones USA on Nov 12th 2019
The nation-wide popularity of pre-roll products, especially around the holidays, means stocking up for a particularly heavy season. Aside from the discrete benefits of a joint, they're also samplers of the retail cannabis market. Curious about a specific strain but not enough to put down a $40-60 for a jar of some flower? Buy a pre roll. Looking for a thoughtful gift for your favorite smoking buddies this holiday season? Buy a pre roll. A pre-roll is one of the most utility products on the shelf, and customers are starting to catch on.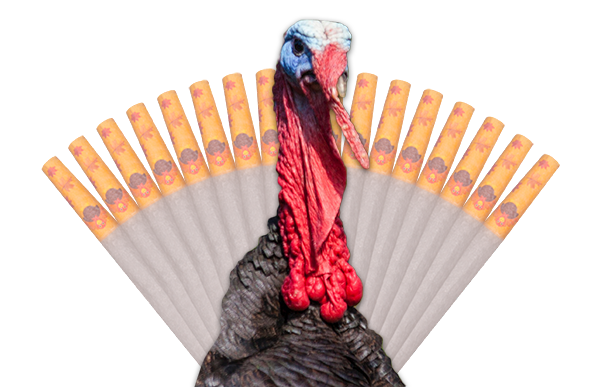 Introducing our new festive pre-rolled cones, Thanksgiving edition. These holiday cones present fall colors and a turkey and make great gifts to family and friends, as well as surprises for your pre-roll customers!
Imagine: It's Thanksgiving morning. You wake up to a wafting scent of turkey baking in the oven. You head to the kitchen and join your family in preparing the annual feast of delicious dinner. Hours fly through the day and it's almost time to indulge - but first, the other annual tradition - a good ol' toke to stimulate your appetite. I mean, how else do you expect to finish that heaping serving of thankfulness on a plate?
You gather with your fellow cannabis-connoisseur family members and one pulls out a nicely packed pre-roll, but not just any basic pre-roll. This is a Thanksgiving themed joint with turkeys and festive fall colors printed on the crutch. As it gets passed around, the holiday cone instantly spreads laughter and smiles amongst you and your loved ones. Everyone agrees, what's more appropriate to share with your fellow stoner family and friends during the holiday season than a themed joint?
These Thanksgiving cones are now available in ultra-fine French white paper cones in sizes 84mm and 109mm. They are knockbox compatible and the minimum order is only one box of 800 pre-rolled cones. Give thanks to your friends and customers this season with these specialty cones, or present our new Christmas pre-rolls as unique holiday gifts! The Christmas cones feature Santa, presents and reindeer on the filter tip. Wrap up 2019 with these jolly and merry pre-rolls that are guaranteed to lighten up everyone's holiday.