Top Five Washington Pre-Rolls of 2019
Posted by Krystyn Bristol on May 29th 2019
It seems like there's an endless variety of methods to smoke cannabis nowadays. From dabs and vape cartridges to bowls, snaps and blunts, every cannabis user has an opportunity to experiment find their most comfortable way of consuming cannabis.
Since moving to the state of Washington from Southern California, I've quickly learned that joints and pre-rolls are a go-to local preference for enjoying cannabis. Washingtonians love their pre-rolls, but with so many different farms and pre-roll options available, where does a cannabis smoker begin looking for their ideal joint?
In no particular order, I've compiled a list of some of my personal favorite strain specific pre-rolls available in Washington. This variety reigns from some of the most successful and popular farms in Washington. While these farms are all vastly different, they share the same philosophy: to continually provide their customers superb, quality products. All five of the companies that I chose use all-flower in their pre-rolls, which sets them apart from the rest of the farms.
Some of these pre-rolls come in a two pack of half-gram joints, which allows the consumer to get two full, separate highs in one "doob tube", while others are a single full gram pre-roll. Whether you are looking to relax and melt into the couch or get a boost of energy and creativity, Washington's farms have many choices for everyone's preference.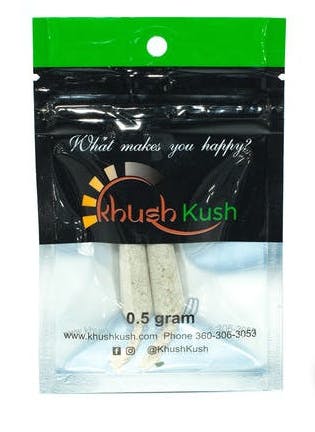 Farm: KhushKush
Strain: Clementine
Type: Sativa
Effects: Energetic, uplifting, creative
Flavor: Citrus (lemon and tangerine)
Pack: 2 half-gram pre-rolls
If you've ever smoked any citrus strain and enjoyed it for the flavor, you will most definitely enjoy Khush Kush's delightful Clementine pre-rolls. The combination of Tangie with Lemon Skunk genetics brings a very pungent citrus taste that compliments the energetic high. Tangie crosses tend to almost always guarantee giggles, which is why this will always be a top pre-roll option for me. Since KK packs their pre-rolls in organic hemp paper, the flavor of the wrap is complimentary to their flower.
"We love the fact that it's organic paper so it pairs really well with our message and quality," says Sunny Saini, CEO of KhushKush. With that being said, Clementine is a perfect strain for social smoking or for a nice pick-me-up when in need. I consider this as one of my favorite "wake and bake" strains because of the nice, natural cerebral boost that I get after smoking. This award winning strain has been a fan favorite from KK's line of specially grown strains.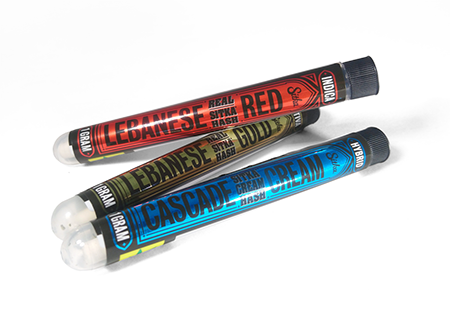 Brand: Sitka
Strain: Lebanese Red Hash Joint
Type: Indica
Effects: Relaxing, tranquil, sedative
Flavor: Bubble hash
Pack: 1 full gram pre-roll
If you're looking to fulfill the "in-da-couch" feel from a heavy indica pre-roll experience, do not pass up Sitka's Lebanese Red hash pre-rolls. I was extremely speculative of the power of a hash joint and boy, was I in for a treat.
"We cure our hash, similar to European style hash. Most Europeans don't smoke fresh hash because it changes the terpene profile," says Shawn Richards, Co-Founder of Sitka.
These joints are infused with their premium, authentic Lebanese hash and come with intense flavor and a very slow burn. The effect is so highly balanced that it made me question why I never put hash in joints before. The THC levels are higher compared to standard full-flower pre-rolls so definitely keep that in mind before sparking up! Although Sitka has other hash joints I specifically recommend the Lebanese Red because of its heavily sedative effects that come with a very relaxing body high.
"Hash is the smoothest preparation of cannabis that there is," says Richards. If you're looking for a nice end-of-day smoking experience, I highly recommend Sitka's indica hash joints.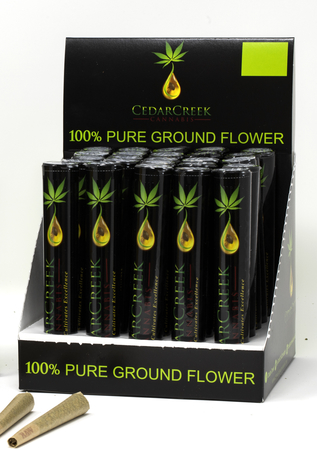 Farm: Cedar Creek Cannabis
Strain: Chem Dawg
Type: Sativa Hybrid
Effects: Productivity, energy, focus
Flavor: Earthy, musky, diesel
Pack: 1 full gram pre-roll
Chemdawg is just one of those strains… the aroma, flavor, and appearance is consistent across all farms that grow it, but Cedar Creek Cannabis has taken the top spot as the best Chemdawg phenotype I've ever smoked.
"We use full flower, no baby buds or trim," says John Akin of CCC. This leads to a steady, slow burn but comes with fast-acting cerebral power. I find the uplifting feelings to be supreme in comparison to many other sativa-dominant pre-rolls that I've tried. CCC offers one full gram pre-roll of Chemdawg that brings a very productive high along with chattiness, which I find perfect for a day-time high. It allows me to speed through my to-do lists and still have time to spare to enjoy this uplifting high. My number one reason why I love CCC's Chemdawg is because it aids PTSD, depression and combats anxiety unlike most sativas. These effects paired with Cedar Creek's top-notch quality makes this pre-roll a match made in heaven for all fans of cannabis.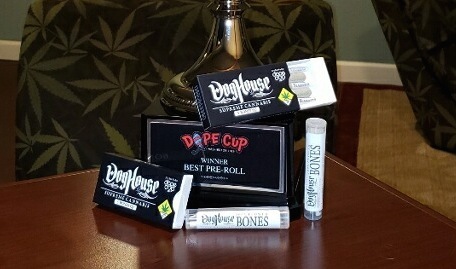 Farm: DogHouse
Strain: Dogwalker
Type: Indica Dominant Hybrid
Effects: Relaxed, euphoric, pain relief
Flavor: Skunk, pine
Pack: 2 half-gram pre-rolls
DogHouse cannabis executes the best phenotype of Dogwalker that I've ever tasted. Dogwalker is a hybrid blend of Albert Walker OG and Chemdawg 91. The skunky, pungent aromas are a nostalgic scent and flavor for all cannabis connoisseurs, but the punch that these pre-rolls pack is what keeps me coming back. The "gassy" smell matches the taste that you get from these slow-burning pre-rolls.
"Coming into the game late we wrestled with the fact that we might not be able to create a preroll that we feel comfortable with marketing," says General Manager of DogHouse, Chris Bell. "Quality and satisfaction is paramount at DogHouse, we won't put it in our package if we're not excited to smoke it ourselves. We weren't convinced a "preroll" could be 'Supreme'." This high THC and pungent, flavorful strain is a fan-favorite from DogHouse, being that it gives the body buzz we are all looking for with an indica-dominant strain, without knocking you completely out.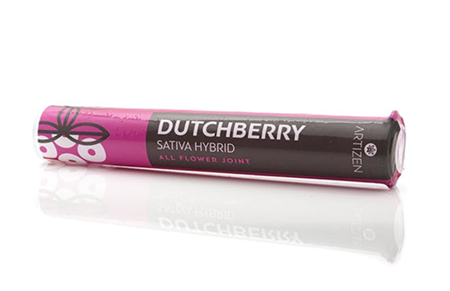 Farm: Artizen
Strain: Dutchberry
Type: Sativa Dominant Hybrid
Effects: Energized, happy, giggly
Flavor: Citrus, berry
Pack: 2 half-gram pre-rolls
If you're looking for a pre-roll that gives you a natural energy boost that surpasses a morning cup of Joe, look no further than 2016 Dope Cup winner, Artizen's Dutchberry. This sativa-dominant strain is known for the fruity blend of berry and citrus flavors that tastes just as good as it smells. Dutchberry, a product of DJ Short Blueberry and Dutch Treat, is a phenomenal aid for muscle pain as well.
"We take pride in our quality and consistency," says Brittany Rubidoux, Marketing Coordinator of Artizen. "We do everything by hand – from cloning to trimming and grinding - we've tried other methods but they don't work as well as our hands on approach, it's consistent." Although indica strains tend to reign supreme as the best choice for body pain relief, the Blueberry genetics bring a natural aid for muscle relaxation. Along with an uplifting, giggly high, this unique hybrid presents the best of both spectrums of indica and sativa, making this made-with-love hybrid a must-try for any cannabis smoker.