How to Design a Custom Branded Pre-Roll
Posted by Custom Cones USA on Sep 15th 2019
Maybe you're an up and coming farm/cannabis brand or you're just thinking of taking the plunge - custom branding your pre-roll products is essential if you want to have a well branded, complete product. Package design is no easy task and designing a pre-rolled cone may be a very new process to you with very unique variables to consider compared to other aspects of your brands package design. When it comes to designing a custom branded cone you need to consider a few main points:
Step 1: What paper type to use
Step 2: Choosing a filter length
Step 3: Planning your branding style
Step 4: Other custom options
Choosing a paper type
Before you begin designing your custom branded pre-rolled cones, you are going to want to start with thinking about what paper type you want to offer. Different paper types and paper grades have different transparencies and colors, so these variables may affect how clearly you see your custom branding or how your brand is perceived in general.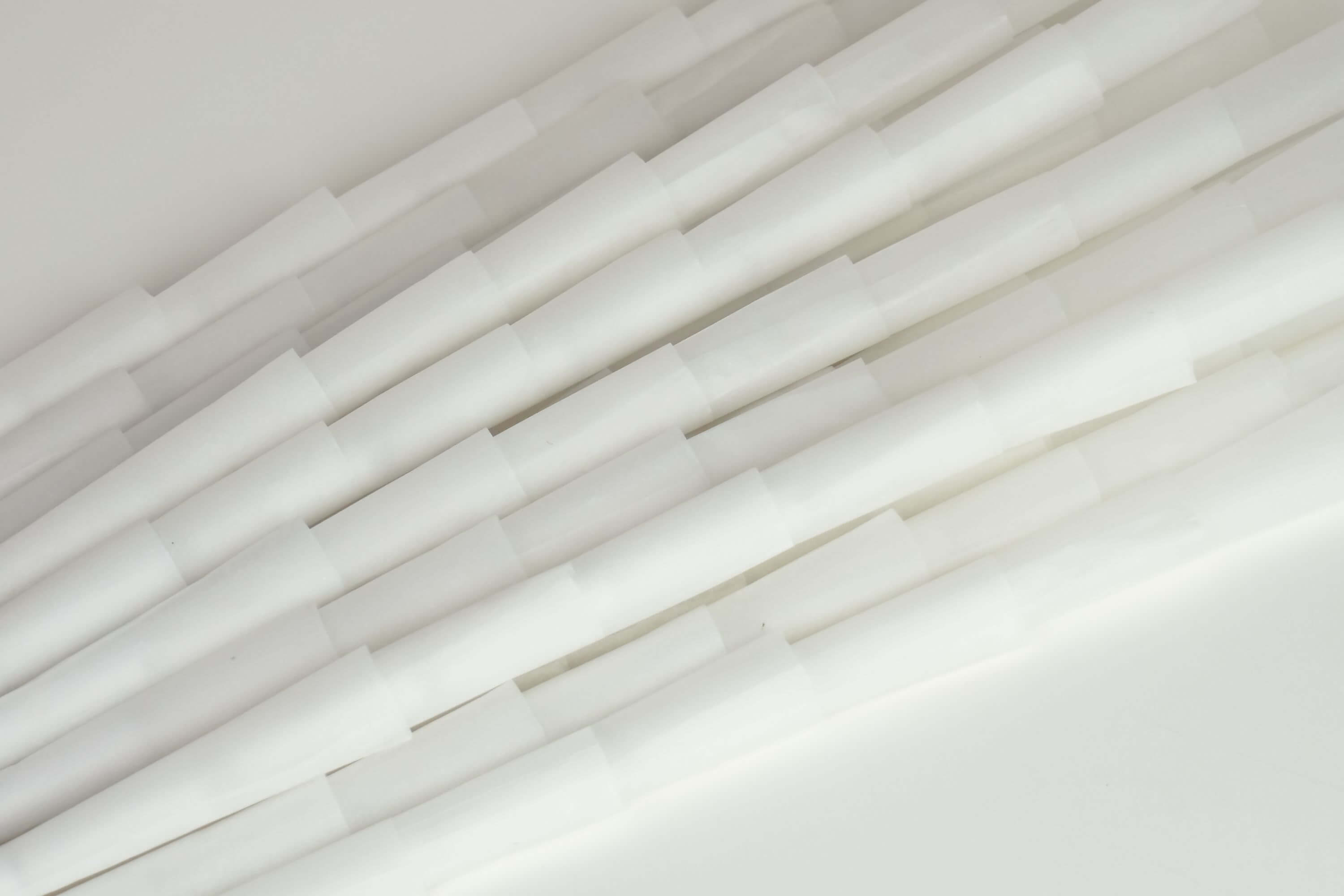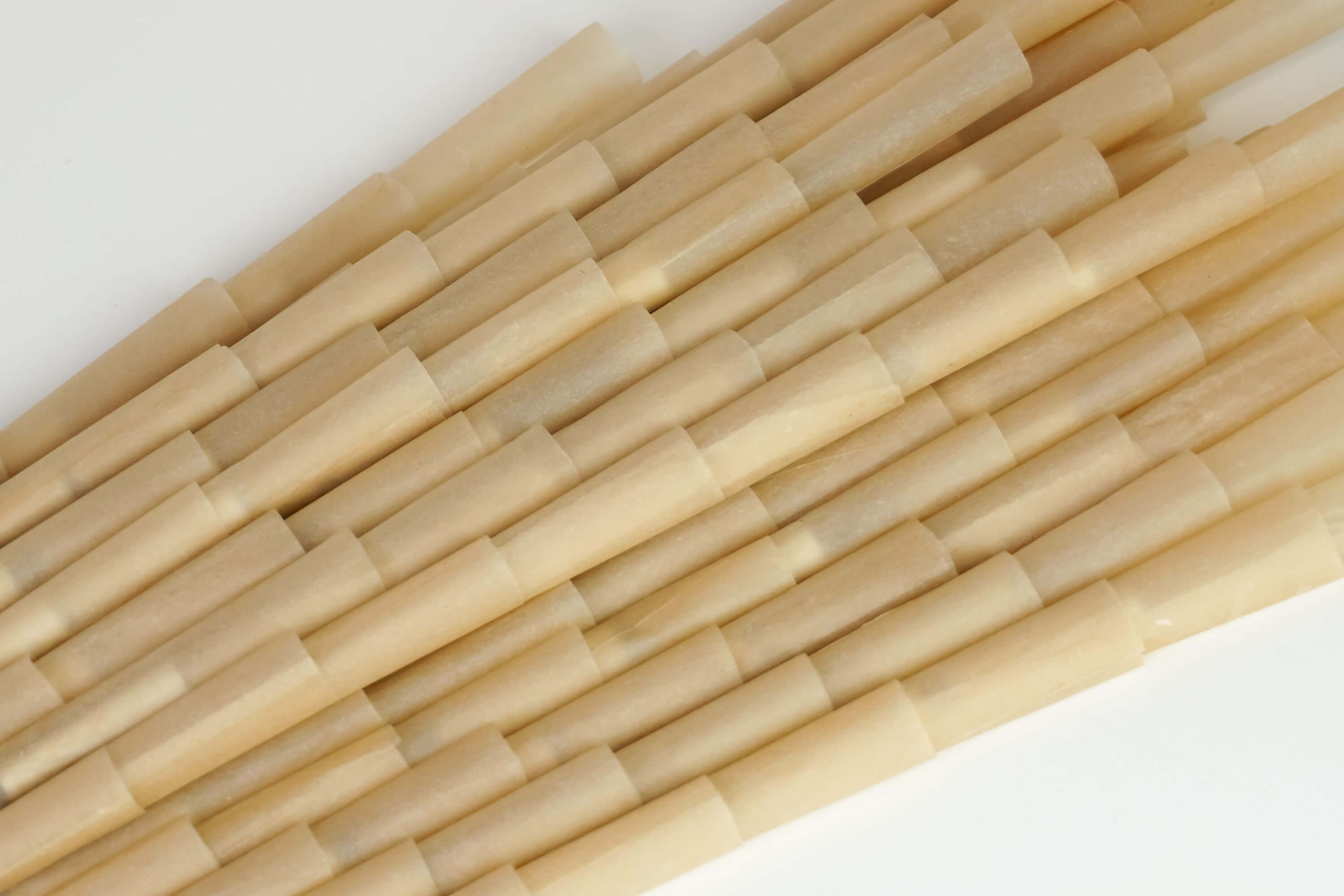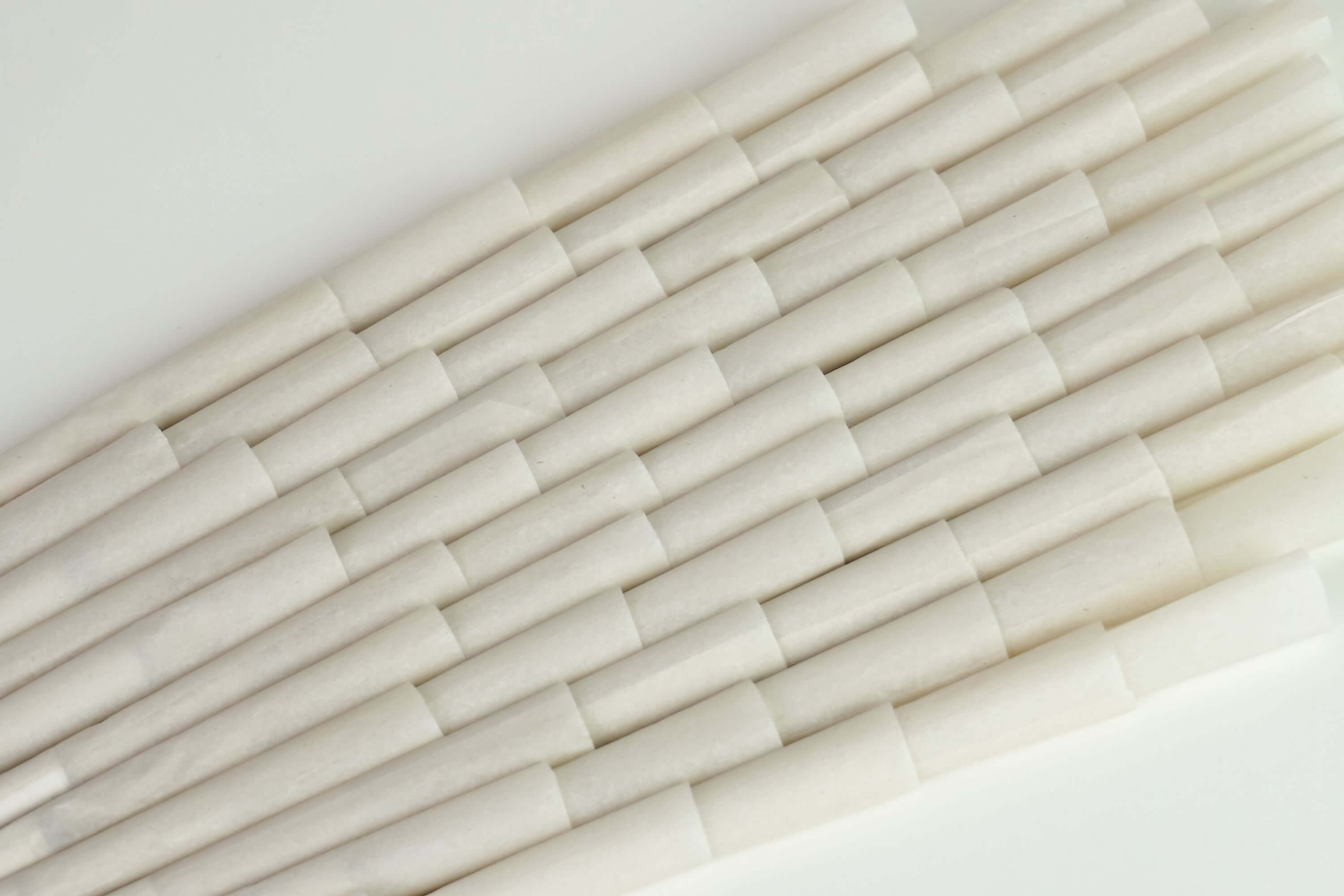 Choosing your filter length
There are three standard sizes for pre rolled cone filter tips: 26mm, 21mm, and 30mm. The 26mm filter tip is the most common sized filter tip, in fact the 26mm filter tip is the standard sized filter tip used in all our stock sizes. Depending on your packaging, you may want to use one of the other standard filter tip sizes - 21mm or 30mm. The main difference is going to come down to if you want a shorter or longer filter. Some people make mini joints with smaller filters, since they can fit in smaller packages, however other brands use longer filters on their mini joints, so the smoke is less harsh and the joints look longer. You may also want a small filter in a larger cone, so you can fill more flower into your pre-rolls. The 26mm and 30mm filter tips have plenty of room for custom branding, but the 21mm filter tip is definitely noticeably smaller, so keep that in mind when considering what packaging to you and what filter size will work best for you.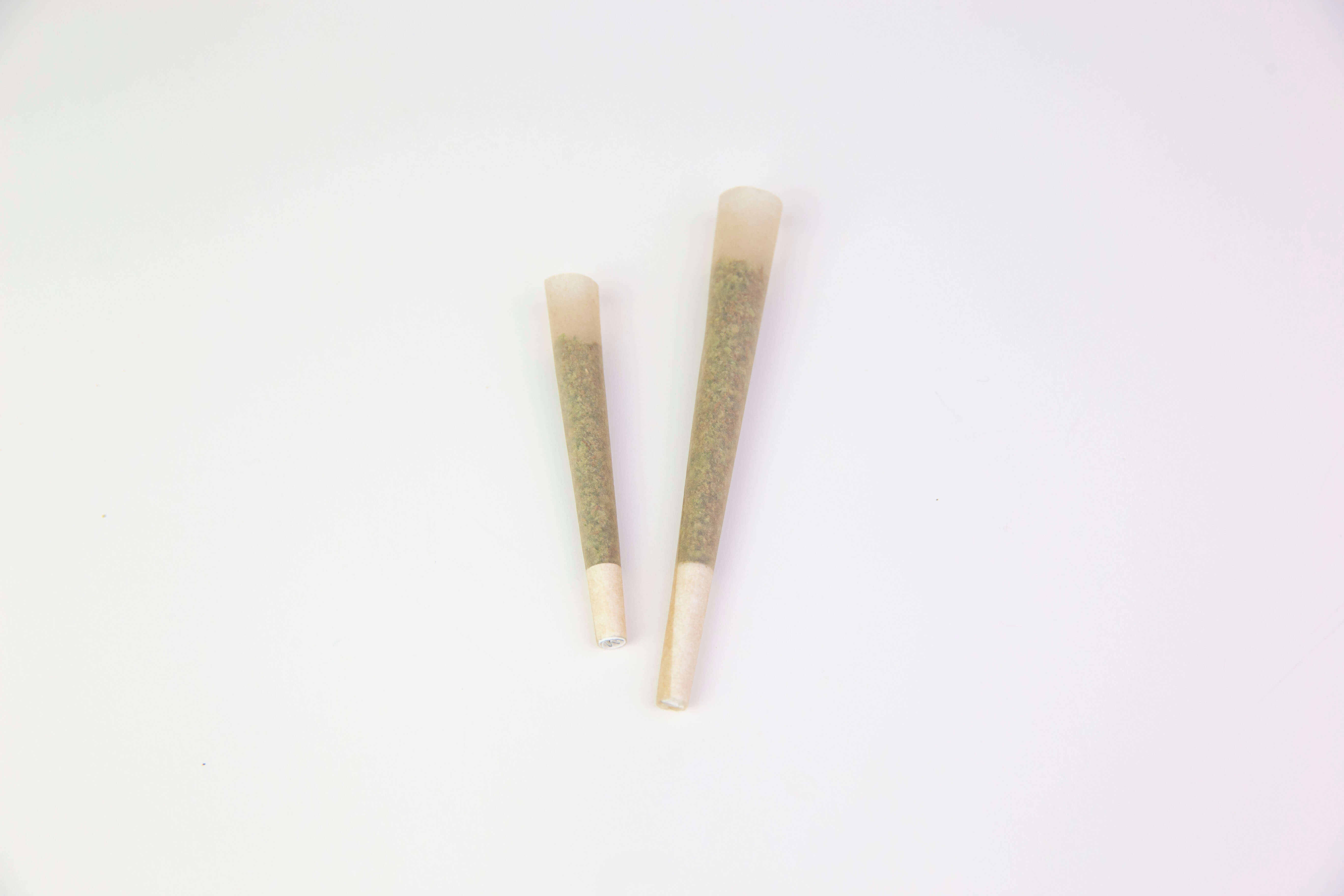 Choosing a design style
Now that you've selected your paper type and figured out what sized filter you want for your pre-rolls, it's time to finalize what design style you want on your branded filter tips. The list below is the common design styles we have seen on custom pre-rolled cones.
- Simple, single logo
- Double sided designs
- Pattern based designs
- Multi-Color designs
Simple, single sided designs - Sometimes, keeping it simple and clean is the best and that's where single sided designs shine the brightest. If you have a strong logo or wordmark, you can't go wrong with that artwork on the top of the crutch or in the middle. You can either keep your logo small, so you can see it completely without rotating your pre roll, but many brands with more complex logos choose to have larger logos centered in the middle of the filter tip.
Double sided designs - If you have both a strong logo and wordmark, many brands like to have their logo on one side of the cone and the wordmark on the other side of the cone. When doing a double sided logo design, you need to be aware that getting both sides perfectly straight is very difficult. Since a pre rolled cone is curved and tapered, it is very hard to have two icons be perfectly level when rotating around the cone shape. If you want a double sided design it is important to ensure your design looks great whether or not both icons are perfectly level.
Another popular double sided design is having the logo on one side and the strain name on the other side. Multi-strain pre-roll packs are becoming more and more popular, so take advantage of custom branded cones by labeling which strain is which in multi stain pre-roll packs.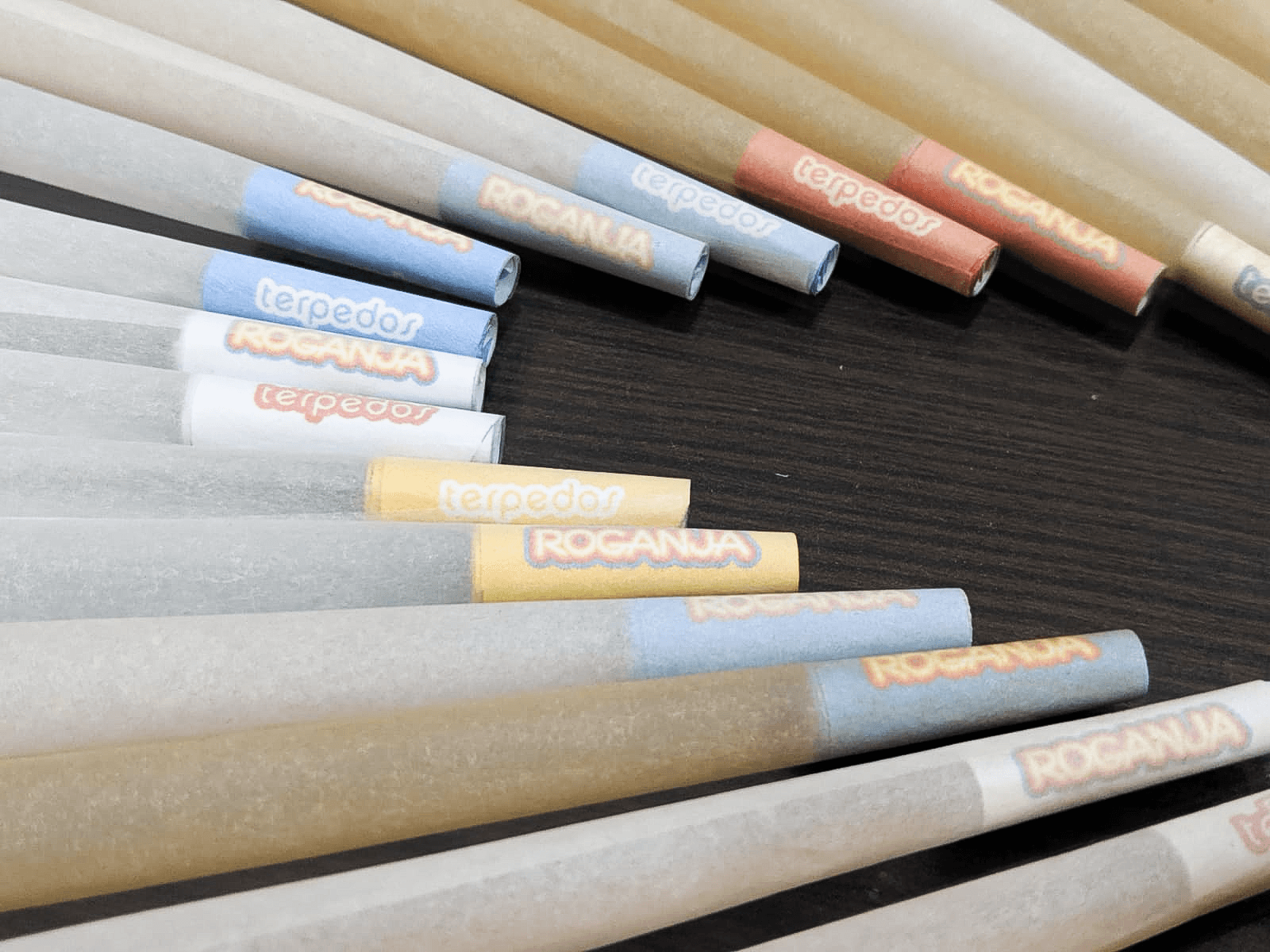 Pattern Designs - If you can design a pattern style filter tip design, you can really create a premium, eye-catching pre-roll product. Having a pattern based logo allows you to fully take advantage of the entire custom the pre roll filter tip offers for custom branding. Patterns are also very eye catching and fun to look at when smoking and sharing a pre roll with your friends. If you want social media worthy pre-roll shots, pattern based designs are a great way to ensure your customers take and share photos while smoking your pre-rolls.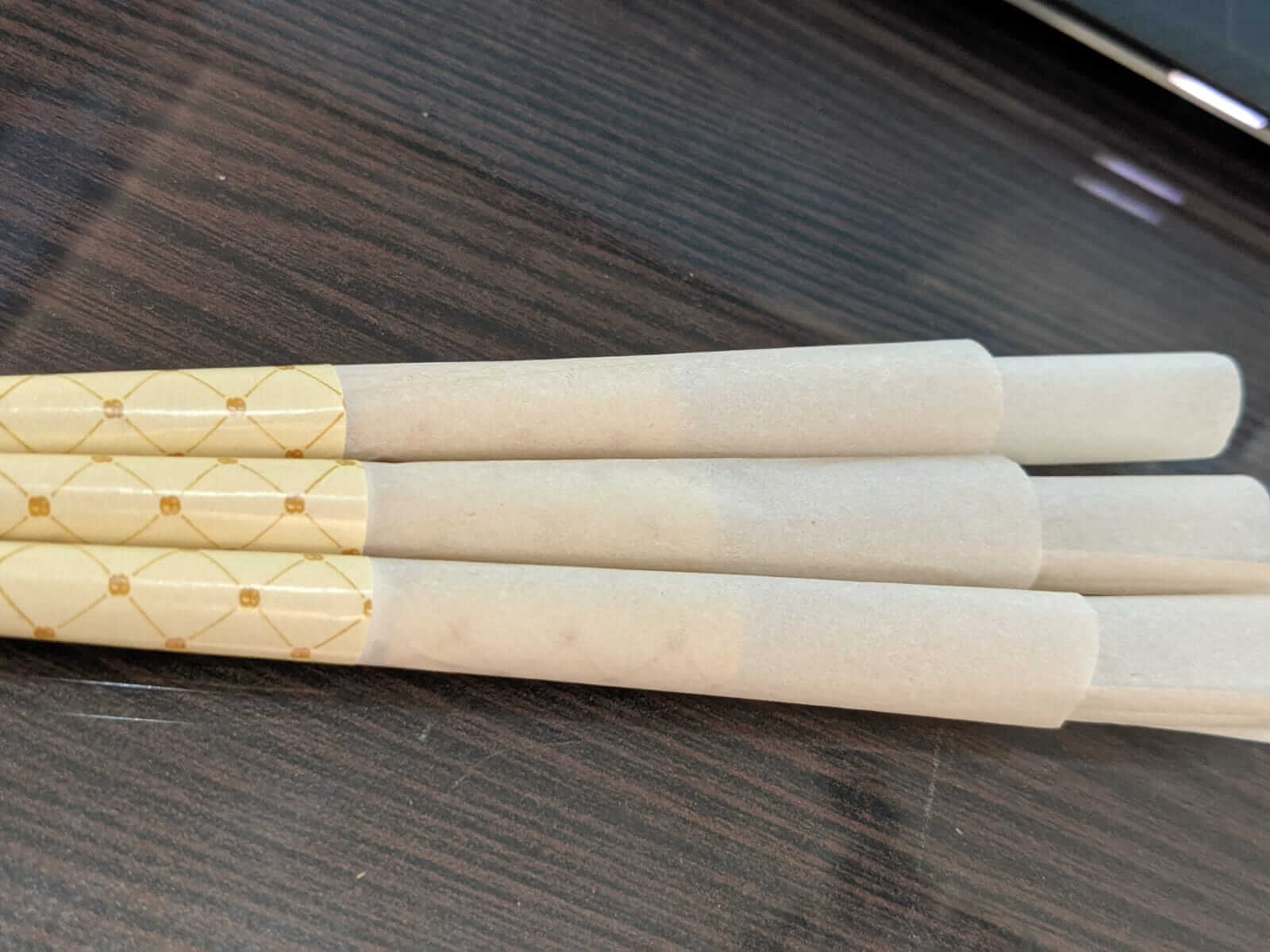 Solid Colors - If you are trying to custom brand your pre-rolls on a budget and you have many strains and want to offer pre-roll multi-packs, it may be a wise idea to use solid colored designs to help create a flexible color coding system. You can set three colors, one for indicia, sativa, and hybrid, so you can rotate different strains in and out of multi-packs with ease. You can also color code different stains and label the colors on your packaging, so if one strain comes in or out of harvest, it does not totally mess up for branded cones - just simply update your packaging and swap in a new strain on that other color. Colored filter tips can also be used to make your packaging more colorful, even if the colors are just there for show and not meant to color code or label anything! Imagine a pre-roll multi pack with half red tipped cones and half black tipped cones, like a deck of cards, or your two main brand colors, or a 7 pre-roll multi-pack with each color of the rainbow!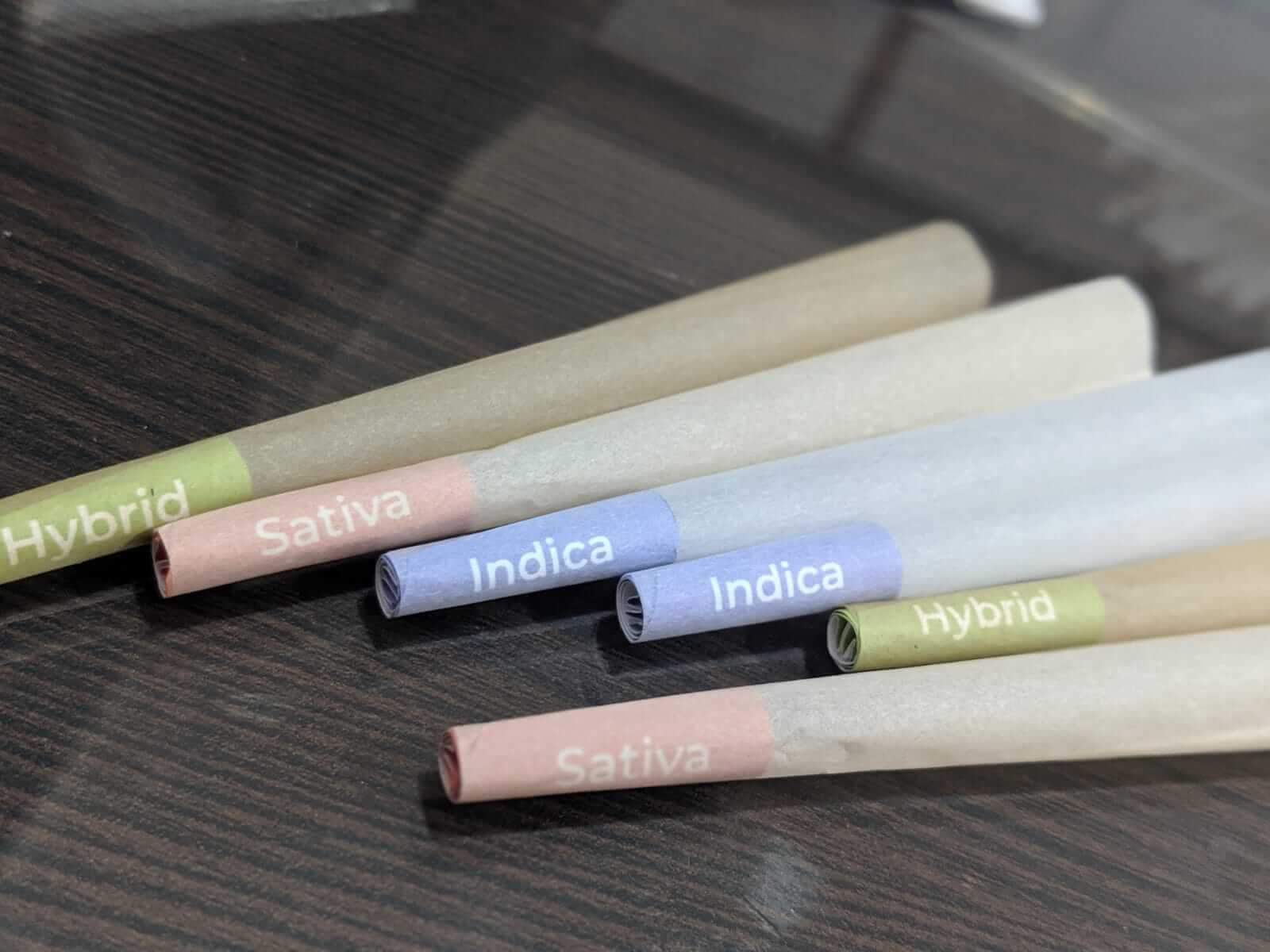 How to choose what colors to use
As I've mentioned earlier, different paper types have different opacities, which will affect how your branding looks from beneath the rolling paper. It may make sense to choose the rolling paper in your pre rolled cones based on your brand's color pallette, or it may make sense to adjust your brand colors based on the paper you want to use in your pre roll products. I'm not saying totally choosing new brand colors, but choosing the boldest colors in your brand's color palette will ensure your custom branded pre-roll tips really pop through the rolling paper. For example, if you brand's colors are mostly black with only a little bit of yellow, try making yellow the dominant color in your filter tip design. Don't be afraid to try new things with your filter tip design. Remember, we offer free digital mock-ups, so you can always see what your design looks like before you commit to your custom branded order. Just to recap paper opacity, our refined white rolling paper is the most transparent and best for custom branding, with our unrefined brown paper being the second best. Although the brown rolling paper is actually darker in color, when compared to our 100% organic hemp rolling paper, the brown paper is more transparent, so you can see your branding better through the brown paper than you can with the 100% organic hemp rolling paper. Technically, the organic hemp rolling paper is the hardest to see through and therefore not the best for custom branding, but don't let that scare you! Many brands love our organic hemp paper and still have beautiful branded cones. If you are going with the organic hemp paper, make sure you design is simple and bold. If you have a very detailed and complex logo or filter design, we would recommend choosing the white or brown paper types. However, if offering 100% organic hemp is important to you and your brand, ask for a digital mock-up of your design to see how it looks and remember, you can always add a custom external wrapping or custom cigar band to your cones, which will ensure your brand is totally visible and extremely eye-catching.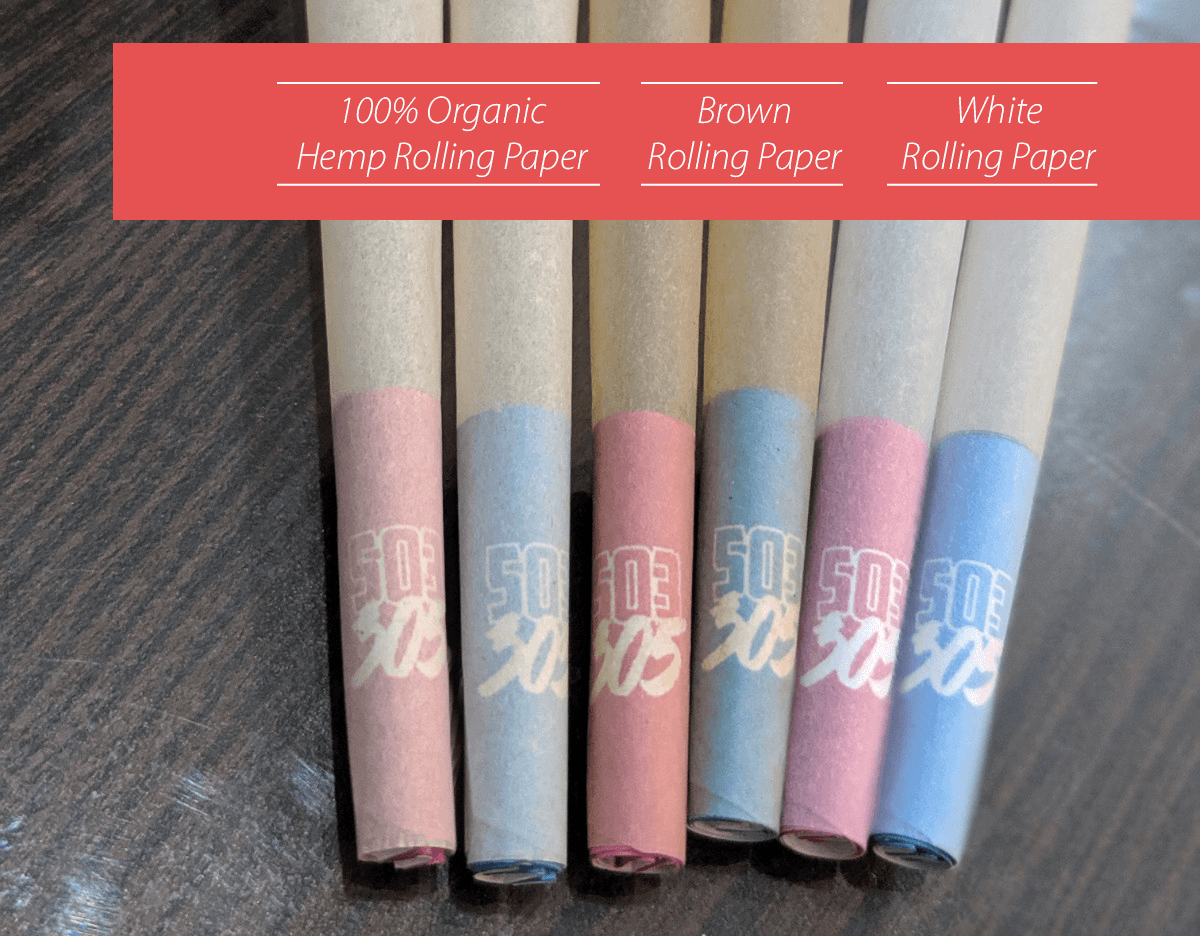 Customization options
All our custom branded pre-rolled cones come with full color branding, but the options are limitless when it comes to further enhancing and customizing your pre-rolled cones. Custom Cones USA not only offers the widest array of paper types and pre-roll sizes in the industry, but we also have the widest options of filter types and customization options by far!
Filter Style - All our standard pre rolled cones come with the classic "W" or "M" zig-zag style filter tip (depending on the way you look at it), but we also offer a spiral filter tip, for those brands who want something a little more premium and different. Compared to the "W" style filter tip, the spiral filter tip has smaller openings, so fine amounts of cannabis will not flow through and get into your customers mouths. We all hate it when little bits of weed get sucked through the filter tip! The spiral filter tip is an extra level of protection against this happening, plus they look incredible stylish and cool!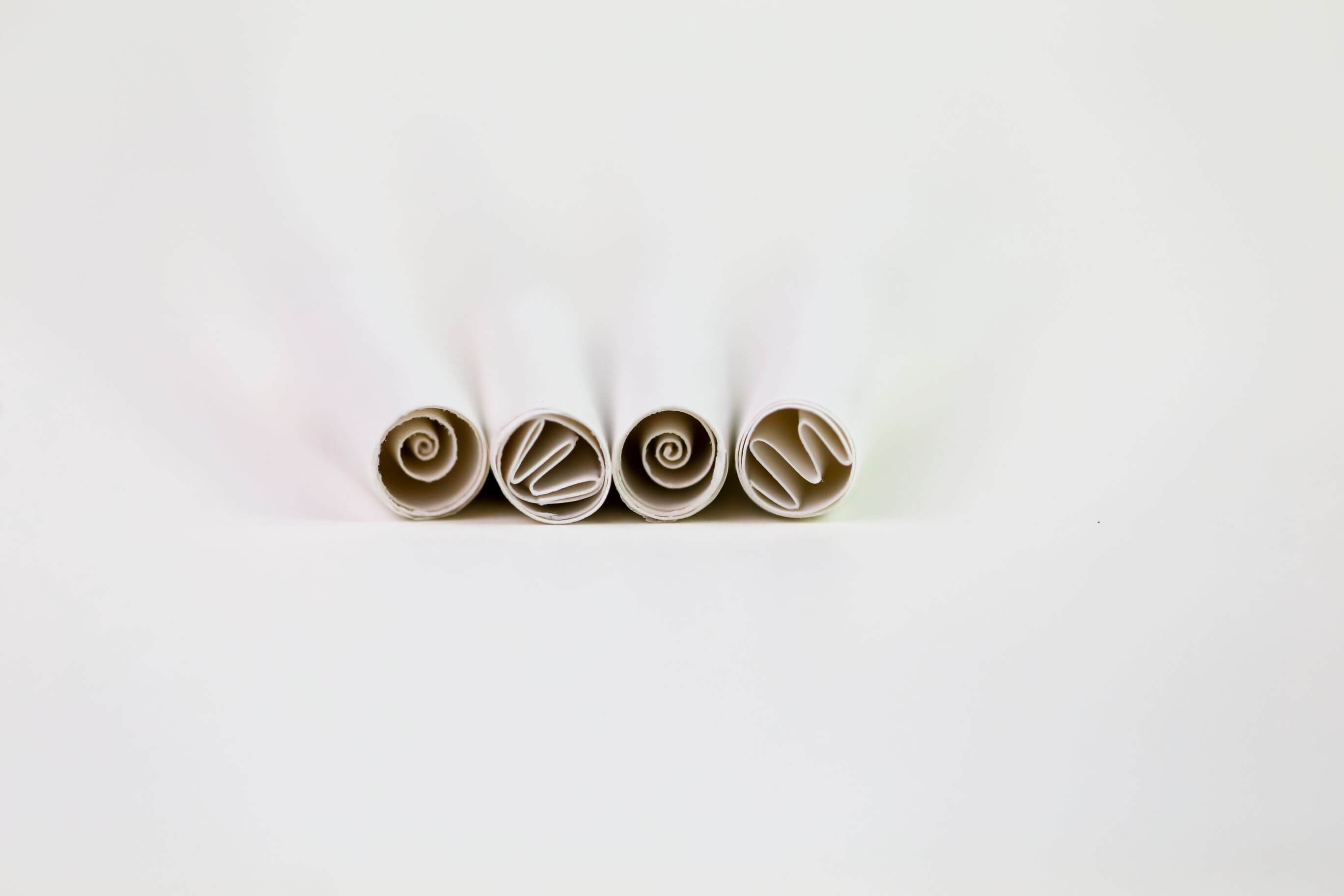 External wraps - I've mentioned external wraps previously, especially in regards to our organic hemp rolling paper, but I'll go a little more in depth here. External wraps are stickers that are applied to the outside of the filer tip. We use only the highest quality papers, inks, and gums when it comes to our pre roll products, so you can rest assured that pre rolled cones with external wraps will pass the stricted Phase III regulations or Health Canada testing, two of the strict cannabis testing regulations in the world. Most customers have their external wraps done in a glossy finish, but you can always get a more premium matte or textured finish. External wraps look great on every paper type - if you are curious about external wraps, we can always provide free digitally mock-ups showing how your design will look custom branded below the rolling paper and on top.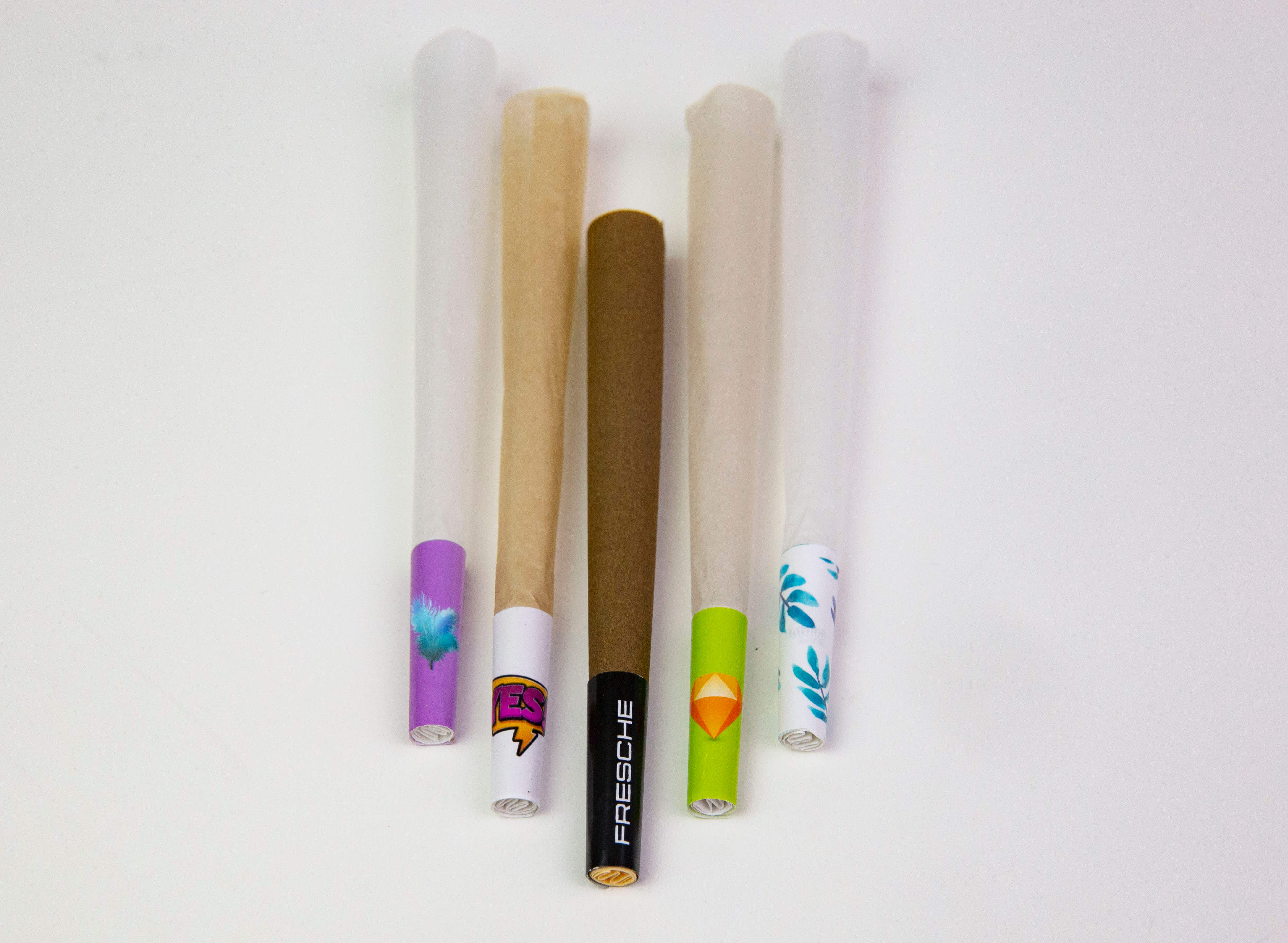 Custom Cigar Bands - Very similar to external wraps are custom cigar bands. The biggest difference here is that external wraps cover the entire filter tip, whereas custom cigar bands only cover part of the filter area. You can customize anything about our custom cigar bands, from the width, color, shape in the middle, and the design all throughout. If your brand sells premium pre-roll products, custom cigar bands are a great way to out the finishing touch on your amazing pre-roll products.
Glass and wood filter tips - Custom Cones USA is the only pre rolled cone manufacturer that offers glass and wood filter tips inside of the pre-rolled cones! Add a glass or wood filter tip totally changes the way your pre-rolls will look and smoke. Compared to other filter tip styles, glass and wood filter tips stick out slightly from the cones, allowing your customers to put their lips on the premium tips vs onto the rolling paper. You will notice a cool and unique tactile feel to glass and wood filter tips, creating a surreal and extremely luxurious smoking experience. All pre-rolled cones with glass tips or wood tips come with custom cigar style bands, which puts these types of pre-rolled cones over the top. Glass and wood tipped pre rolled cones are not for cheap, pre-rolls. If you are a luxury brand or premium flower company, consider adding a high-end pre-roll to you product offering with one of our glass or wood filter tipped cones.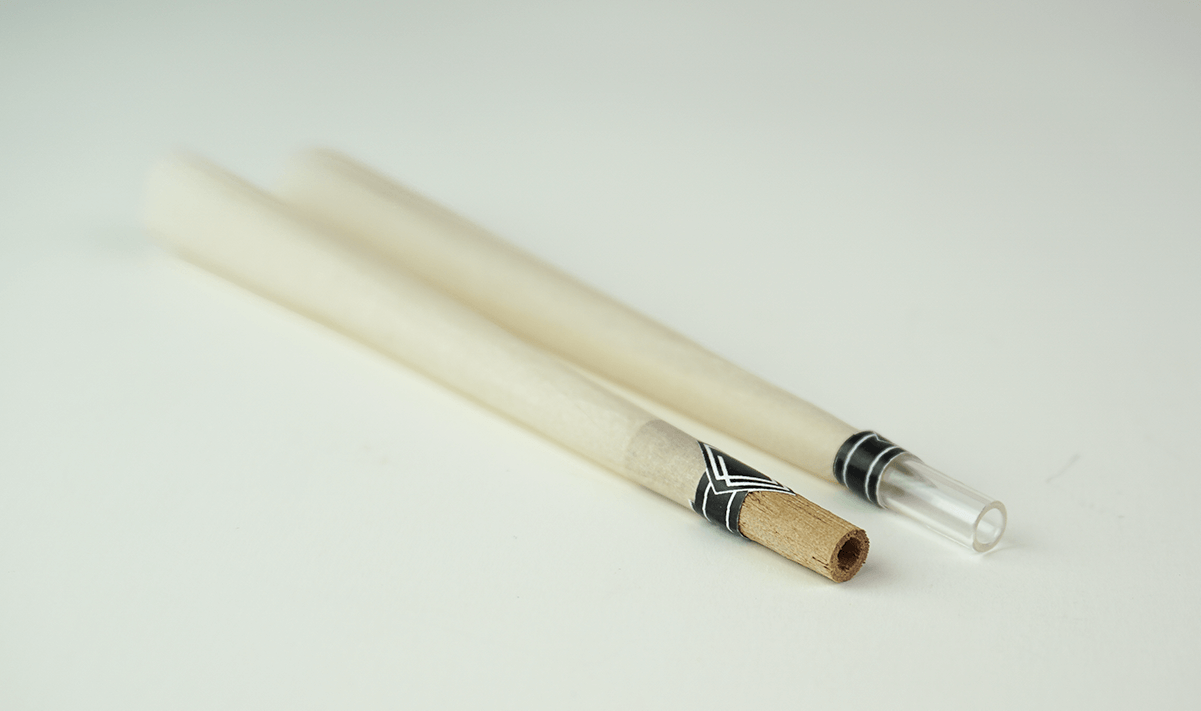 I know it seems like there is a lot to it, but with the help from our Pre-Roll Experts, you'll have a beautifully designed pre-rolled cone quite easily. Please feel free to give us a call any time or email us with any design or pre-roll related questions. If you send us your logo/artwork in a high-quality .pdf or .ai format, we will gladly help you lay out your design and provide you with digital mock-ups. If you have a talented design team, just reach out to our team of Pre-Roll experts and request a design guide, which will help you lay out your filter tip design perfectly.