California Pre-Roll Packaging & Testing Regulations
Posted by Custom Cones USA on Jan 4th 2019
In order to assure quality and safe consumption, California has enacted several packaging and testing regulations for their legal cannabis industry. Specifically, California passed The Medicinal and Adult-Use Cannabis Regulation and Safety Act (MAUCRSA) in order to outline the quality/safety requirements for cannabis flower, pre-rolls, and manufactured cannabis products, such as edibles, for consumers.
[LAST UPDATED: 1/31/2019] - This article is for informational purposes only. This is not legal advice.
The Packaging Checklist
1. Tamper Evident
Allows the buyer to know if the package has been opened/tampered

For pre-rolls: Plastic/wax seal, sticker seal, plastic wrap etc.
2. Child Resistant
Child Resistant Packaging (CRP) is in compliant with the federal Poison Prevention Act of 1970.

Single vs. Multiple Use CRP

i.e. Single pre-roll tubes vs. large packs of edibles

Cannot resemble packaging typically marketed to children or non-cannabis food products

Washington State recently banned all marijuana gummies and hard candies on the ground that they are "especially appealing to children". Keep your stash stashed!
3. Resealable [for multiple use products]
The cannabis packaging can be closed after each use

For pre-rolls: doob tube/glass jar lid, adhesive closure, box closure, zip lock closure etc.
4. Opaque [for edibles only]
The cannabis product is unable to be seen through the packaging
MAUCRSA Principles
Cannabis packaging must protect the product from contamination.

Cannabis products must be packaged as a final product, according to regulations, by a cultivator, manufacturer, or distributor, prior to transfer to a distributor to sell.

Any one of multiple layers of multi-layered packaging can be used to comply with Packaging Checklist requirements
One of the beauties of legal cannabis is the extensive testing done to guarantee quality cannabis. Lets be honest, back in the day, 99% of the time you could not definitively say what was in your flower. What was once a mere gesture of faith is now a regulated system that will only continue to improve as the legal cannabis industry matures.
For pre-rolls and inhalable cannabis, testing includes, but is not limited, to measuring for the presence of cannabinoids/terpenoids, residual pesticides, microbial impurities, mycotoxins, heavy metals, and foreign materials. The results are then labeled clearly and legibly on the Primary Panel (easily displayed part of the package) or Informational Panel (any other portion of the label) on the final packaging. The California Bureau of Cannabis Control outlines all the testing requirements for cannabis products below: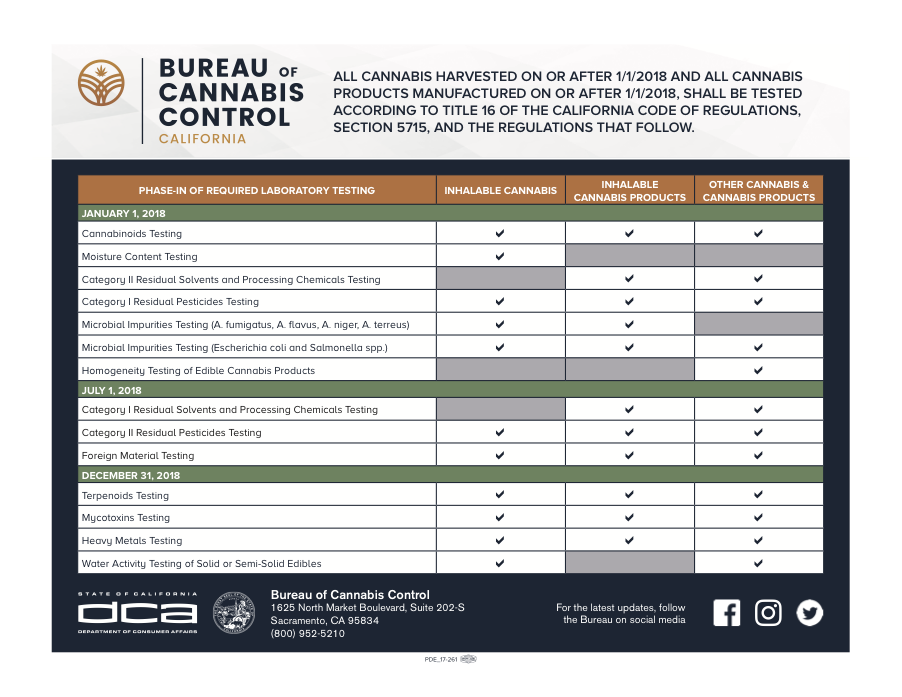 At Custom Cones USA we work to make sure our pre-rolled cones are not only compliant with various state regulations but in fact go beyond those requirements. We are leading this industry with the safest, most environmentally-friendly, and cleanest pre-rolled cones. All our pre-rolled cones use rolling paper made in France which is made to the same standards the FDA requires for any paper which is contact with food. It also follows EU regulations for food-grade paper. Not only is the paper food-grade but it is also FSC-certified. This means the pre-rolled cones are made using sustainably sourced raw materials.
The only gum we use on our pre-rolled cones is the all-natural acacia gum. The gum is always tested for aerobic plate count, combined yeast and mold count, E. Coli, S. aureus, Salmonella and total coliforms. This way it assured the gum will not add any dangerous bacteria to your flower.
Further our pre rolled cone factory is ISO-9001 certified and managed under these principles to ensure proper handling of stock material. Because Custom Cones USA owns both the production and distribution of our pre-rolled cones we are able to instantly react to regulation changes, work closely with clients to understand their specific state needs and ensure compliance through every step of the process from production to delivery.